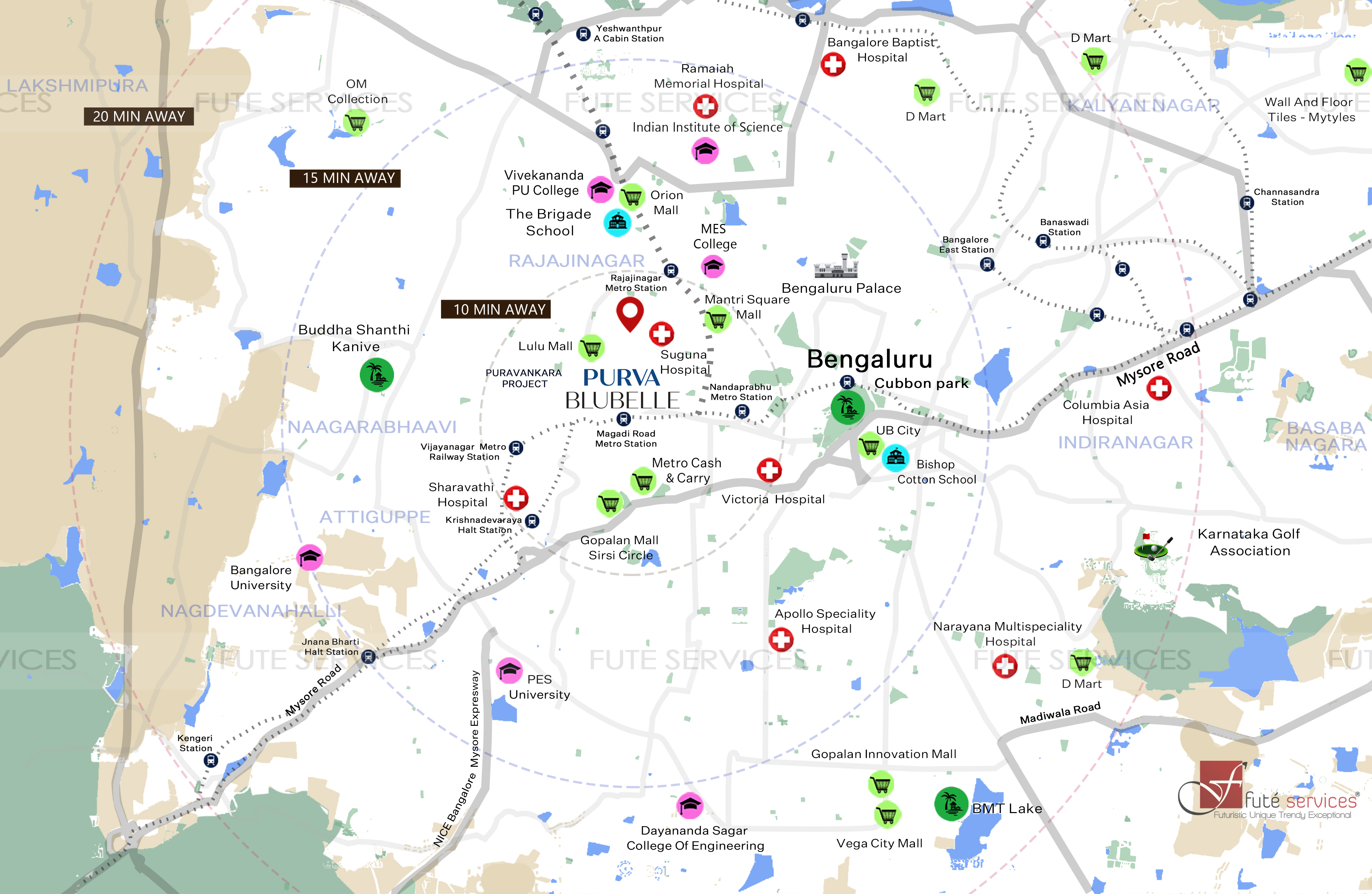 The real estate sector of Bangalore has been doing remarkably well with a surge in demand for properties. Consequently, the builders and real estate developers have been offering impressive residential properties across the city, matching the taste and requirements of the new-age home buyers. Purvankara is one of the renowned and dynamic real estate developers who has been offering marvelous residential properties in Bangalore. The Group has to its credit stunning residential properties in the city with high-end amenities which have been well accepted by home buyers and investors. Purvankara now launches Purva Blubelle, a lavish residential apartment on Magadi Road, a popular locality of Bangalore. Purva Blubelle will be ideal for all those seeking a luxurious living space with utmost comfort and mega amenities. Purva Blubelle's location promises to be your dream destination for a beautiful abode that will be an asset for life.
Purva Blubelle is located on Magadi Road, a prominent and developed neighborhood of West Bangalore. Purva Blubelle's address is Magadi Road, Bangalore. The locality today boasts of upscale development having all essential facilities required for ease of living like schools and colleges, hospitals, supermarkets, malls, restaurants, recreational zones, banks, etc. Magadi Road has very good connectivity to all parts of Bangalore city, and the presence of proper public transport facilities adds to the convenience of commuting. In addition, numerous IT parks and employment hubs are close to Magadi Road, which makes the neighborhood apt for professionals. Magadi Road is a preferred locality of aspiring home buyers and investors which promises great value appreciation in the future.
The location map of a residential property defines the exact location of the property and helps one understand the various routes via which one can reach the destination. Purva Blubelle's location map will define the proper location of the property and explain at length how to reach the location easily. One can check the location map of Pura Bluebelle and reach the place easily.
Purva Blubelle is a luxurious residential property that is being developed over a sprawling acre of land. This residential property is in its pre-launch phase and will be a gorgeous high-rise that will offer exquisitely designed 1, 2, and 3 BHK abodes. Each abode will have sumptuous designs, stylish interiors, and high-end amenities which offer a pleasant living experience. The property will be nestled in the midst of lush greens, landscapes, and gardens with charming views which will be alluring. The property will be perfect for those seeking lavish abodes with an elevated lifestyle.
Purva Blubelle offers top-class lifestyle amenities, which will be apt for rejuvenation and unwinding. The amenities within the property include a world-class clubhouse with numerous activities for spending quality time with family and loved ones, an amazing swimming pool, a gym and jogging track promising fitness, multiple sports courts like a badminton court, a basketball court, and indoor games for sports enthusiasts. Furthermore, there will be a banquet hall, a great kid's play area, multipurpose halls for events and parties, and many more. All these amenities are superb and perfect for pepping up one and all anytime instantly.
Purva Blubelle's location will be your obvious choice for purchasing a dream home that will bring you and your loved ones the utmost satisfaction. The property offers everything required for an unmatched living experience while creating cherishing moments for life.
Frequently Asked Questions
1.
What is the exact Purva Blubelle address?
Purva Blubelle is an upcoming futuristic pre-launch integrated apartment development in Magadi Road, West Bangalore.
2.
Which are the nearest landmarks close to Purva Blubelle?
Nearest Landmark Kamakshipalyaa, West Bangalore.